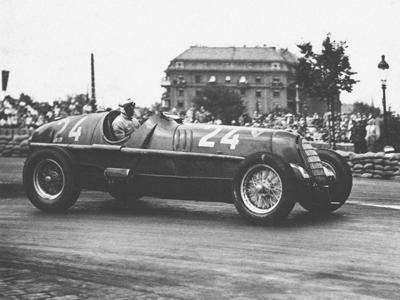 Nuvolari at Budapest 1936, in his Alfa Tipo C (8C 35) #24.
 Rosemeyer had a 37 second lead over Nuvolari but then suddenly Rosemeyer got into trouble and the Ferrari driver was able to catch the leader in only three laps and take the lead on lap 33. Nuvolari soon opened up a 15 second lead and then kept the advantage to the flag with Rosemeyer unable to respond.
The other finishers were several laps behind, Varzi finished third followed by Tadini's Alfa.
It had been another amazing drive from Nuvolari, beating the Germans fairly and squarely.
Yours truly, sitting in the cockpit of Peter Greenfield's 8C 35, what a beauty. The engineering on this car is a joy to behold and It sounds as good as it looks.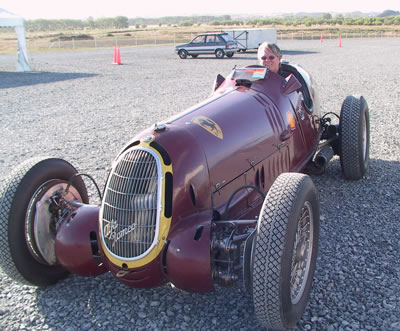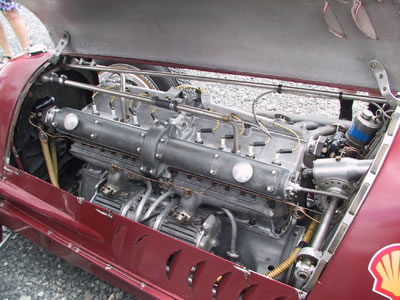 There are a few slight differences to Nuvolari's car in the painting but they are both 8C's.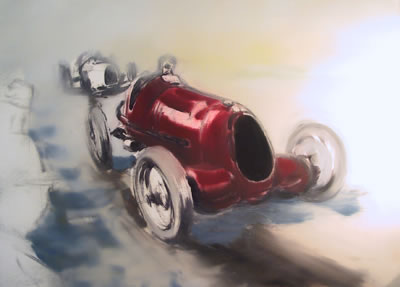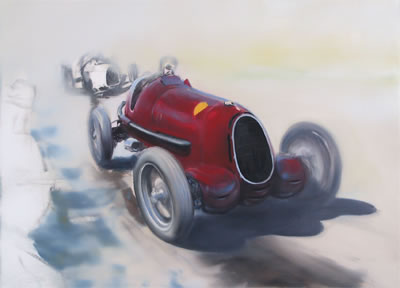 I have two sources, that state that Nuvolari drove a 12C but all photographic evidence indicate, that it was in fact an 8C as I'm portraying. He did win a couple other events later on in 1936, driving a 12C however. This could be the reason for the confusion.
 The 12C must have been an improvement in performance over the 8C but I do like the look of the 8C better, with it's long sweeping exhaust along it's flank. Peter Greefield's car, has a lovely flute at the end of the exhaust pipe, I like very much.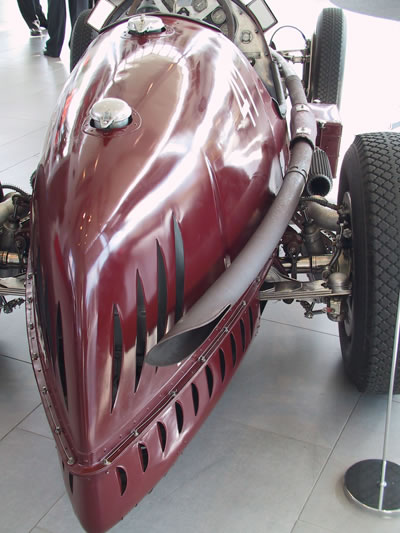 The Nuvolari car had the pipe cut off on an angle.
 You can also see a battery box down the right hand side, this car has an electric start, where as in 1936, Nuvolari's car was crank started.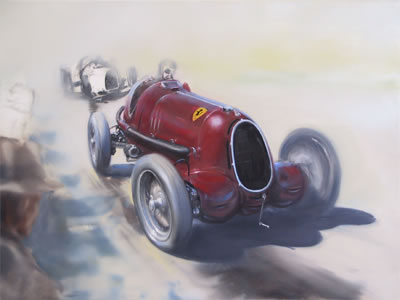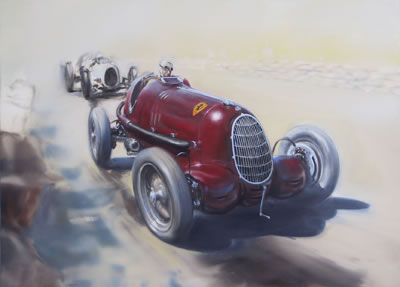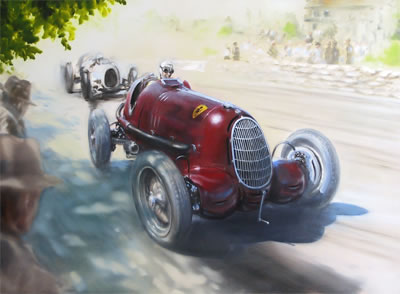 On studying photographs from the 1936 race, I've found that the grill looks as if it is dark in colour like the body, so I've changed it? I will need to do further research but in looking at other photos of the 8C competing in different events, there appears to be a definite difference to this cars grill. Also, the crank handle? Quite often I see on Nuvolari's car, it swinging in the breeze. There is a clip that is suppose to hold the handle in an upright position. It seems that either under racing conditions or forgetfulness, the handle is hanging free a lot of the time. So I've shown this in my painting of this particular race.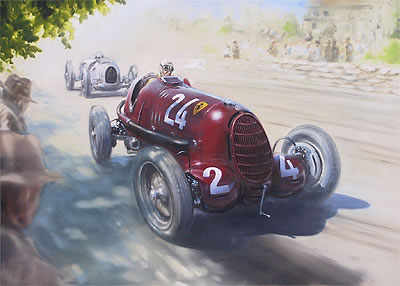 Final touches and the work is very near completion.